Switzerland's Richest Person Adds to Pharma Bet With Purchase of Corium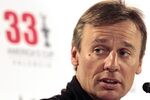 Swiss billionaire Ernesto Bertarelli – Photographer: Jose Jordan/AFP via Getty Images
The Bertarelli family made their vast fortune from drugs. They're still betting the pharmaceutical industry can deliver.
Gurnet Point Capital, a health-care fund backed by Ernesto Bertarelli, Switzerland's richest person, has agreed to buy Corium International Inc. in a deal that could value the Menlo Park, California-based biopharmaceutical company at more than $500 million.
By focusing on pharmaceuticals, Bertarelli is sticking to what he knows. He orchestrated the sale of the family's fertility drug maker, Serono, to Merck KGaA for $8.6 billion in 2006 when he was 40 years old. Today, the family's fortune is valued at $15.6 billion according to the Bloomberg Billionaires Index. They've also expanded into hedge funds, private equity and real estate, through Waypoint, Kedge Capital and Crosstree Real Estate Partners.
Gurnet Point, based in Cambridge, Massachusetts, will pay $12.50 per share, a 50 percent premium to Corium's closing price on Thursday. The firm produces specialized products that help deliver drugs through the skin and mucous membranes. Gurnet Point has also agreed to pay an additional 50 cents per share if the U.S. Food and Drug Administration approves Corium's Alzheimer's treatment before March 31, 2020.
"Our team, which brings decades of experience in the life sciences and health-care sectors, will support the Corium team and its strategy for creating additional novel products," said Gurnet Point Managing Partner Chris Viehbacher in a statement. He noted they would provide "significant financial investment" to help bring products to market faster.
Corium shares rose 52 percent to $12.60 at 2:21 p.m. in New York on Friday.
Three generations of the Bertarelli family led Serono before its sale that came a century after the company's 1906 founding. Their investments outside the drug-making sector now include more than 400 million pounds ($529.8 million) of London real estate and Northill Capital, an asset manager set up in 2010 that acquired the infrastructure management business of Australian banking group Westpac last year. Northill, based in London, has assets under management of about $54 billion, according to its website.
https://www.bloomberg.com/news/articles/2018-10-11/billionaire-bertarelli-family-add-to-pharma-bet-with-corium-buy